hyTeams app

Re-design of an app for team synchronization
in hybrid work environments


ux design / ui design / design system / mobile app

---
Timeline
Jan/22 —now


Type
Full-time project at Bicg


My role
Product designe & Product owner
Responsible for the entire process in both UX and visual design. Contributed to primary research, concept development, information architecture and high-fidelity user interface. I was also in charge of project management and coordination with the development team.


Tools
Figjam
Figma
Notion


---
Hybrid work made easy
hyTeams is an app that allows managers to make their teams' hybrid work much more efficient.
Employees can plan which days they will be in the office to collaborate and socialize and which days they will be working remotely, on the go or not available.
Managers can set joint office days for their teams and set a maximum percentage of remote work.
Visit landing page
︎︎︎
Released in May 2022
Download it on Apple Store
︎︎︎
Download it on Google Play Store
︎︎︎
---
01 Discovering
Background

Upon entering the project, a first version of the app had already been released. It had gone directly to a development phase based on a common need of several Bicg clients, without taking into account a previous research or design phase.

A couple of pilot projects of the app were launched with low engagement: users commented that the app was unusable and very slow.

Load time was high due to the environment it was built on, Microsoft Power Apps. In addition, customers were unhappy since they had to pay for a license from Microsoft, in addition to paying for the application itself.
















Challenge

Therefore, when I joined the project, the main challenge I identified was to

introduce design thinking into the project: design based on research, without leaving users out of the equation.
---
UX Audit
By interviewing some users who were participating in the launch pilot project, I did an audit of the first app and outlined the main areas in which was necessary to intervene. Pain points detected:
The content as well as the different user flows were not clear to users
Some information that needed to be viewed together was on separate screens, forcing the user to navigate between screens inefficiently
There were duplicate functions on different screens and the side menu contained links to the navigation bar, which was confusing to the user
---
Improvement opportunities:
1. Simplify navigation
2. Organize features
3. Declutter content
---
02 Defining
Roadmap

Stepping into an ongoing project meant a lot of catching up, as well as being flexible. Business goals changed throughout the project depending on the needs of the client and the environment, which was very unstable due to the pandemic, so being agile was vital.

In this case study, I focus on explaining the last phase of the project, in which it was necessary to adapt the app to a freemium model, focusing first on the free version.


sep/21
---
Hybrid Synchronizer 1.0
Improve the usability of the current app
- Simplify screens and user flows
- Unify and update the visual design
nov/22
---
Hybrid Synchronizer 2.0
Test market need with a complete app
- Identify
all needs related to team synchronization
- Design a complete app to test product-market fit
jan/22
---
hyTeams app

Pivot to a freemium model
- Design a free model of the app, as well as a premium model
How can we offer maximum value to professionals working in a hybrid environment to synchronize with their colleagues with a minimum viable product?
---
Target audience


Primary Audience

Professionals working in a hybrid work environment


---

Secondary Audience

Managers who want to define the rules of remote work for their teams


---
User interviews
I interviewed some bicg clients who are currently implementing a hybrid work model in their companies to understand what obstacles they were encountering and how they were overcoming them.

From the interviews, I learned that asynchronous communication is vital to keeping the entire team informed, without creating pressure. In addition, I understood that in a professional environment it is key to synchronize with the tools already used by the company, in most cases Microsoft Teams.


---
03 Designing
Wireframes

We created hi-fi wireframes for each screen of the app and got users' insights before moving ahead to development.



---

Iteration

Although the top priority was to keep the app simple and I proposed only 3 main screens, the users preferred to see one screen with all the contacts and tems, managing their configuration directly from there.

It was also useful to have an agenda screen, since by being able to synchronize the Microsoft Teams account, it was useful for them to be able to view all the information from the same app.





---
04 Delivering
1. Set your whereabouts for the day
Quickly see who's in the office today and change your planning for the current day in just one click.


---

2. Synchronize with your colleagues
Visualize the planning of your teammates and plan your week according to your needs or wishes.


---

3. Organize the team
Define the rules for hybrid working and schedule joint office days to coincide with your teammates.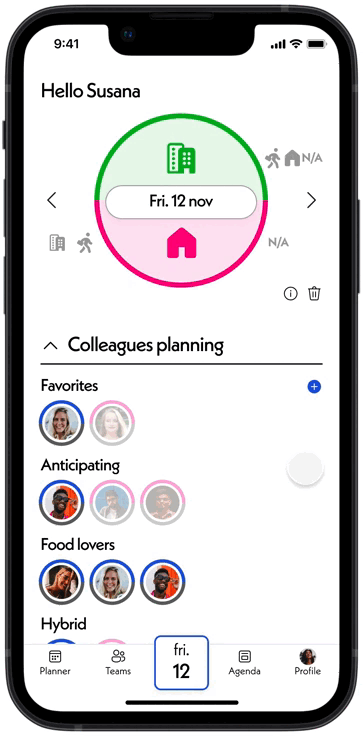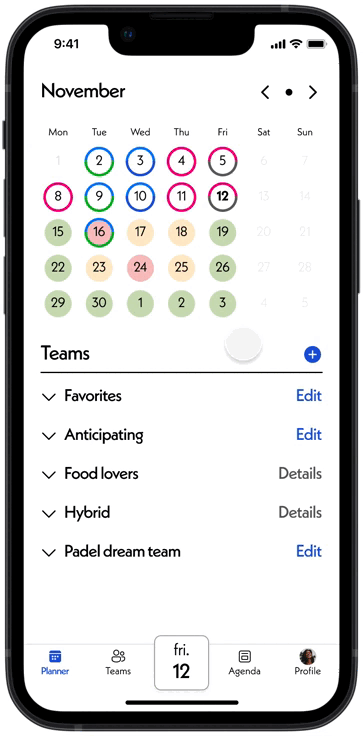 ---
Next steps
1. Improve user invitation system

As MVP we launched the application with the option to invite users to your teams through a whatsapp link. The next step would be to work with invitations via email associated with the user, as well as offering a search engine for users registered in hyTeams.


---

2. Exploratory research of premium features

Investigate through 121 interviews potential clients of the premium version to detect the main needs and based on this, prioritize the features to be designed.


---